We hope you saved room for dessert.
While burgers and fries take the spotlight on any fast food menu, it would be wrong to underestimate the art of saving room for dessert. Surprisingly, fast casual restaurants are keepers to some of the best frozen treats. Can you order a McFlurry at a high-end dinner? I think not.
Fast food is the ideal meal when we're too busy to sit down and enjoy a home cooked dinner, or when you're driving the kids from one activity to another and they haven't even started their homework yet. Founder of Wendy's Dave Thomas wanted to create the Frosty as the final touch on the "perfect meal," and I'd have to agree with him. It's no easy task to rank fast food desserts with so many options available, but we did it. Here's our official ranking of some of the best (and some of the not-so-great) fast food treats, from our favorites to our least faves.
Advertisement – Continue Reading Below
1
McDonald's Oreo McFlurry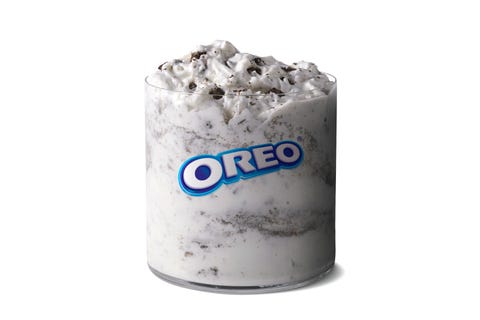 McDonald's
If loving an Oreo McFlurry is wrong, I don't want to be right. There's something instantly iconic about a McFlurry. With McDonald's now on UberEats, giving into the craving has been even easier during the pandemic. And while we love the Oreo edition, you should always stay vigilant for new limited-edition flavors such as the Shamrock Oreo McFlurry and the Chips Ahoy McFlurry.
2
Shake Shack Frozen Custard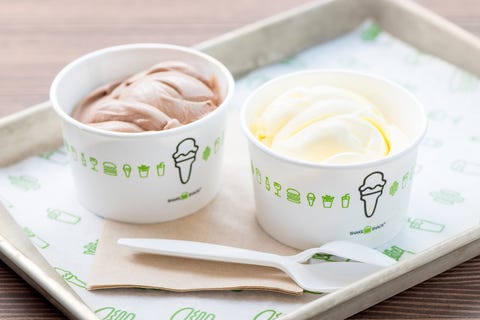 Shake Shack
Calling this ice cream would be a disservice, because frozen custard is so much creamier and more premium than you'd expect. Shake Shack's Frozen Custard is hand-spun daily right in the kitchen. Anyone who tries one can taste right away how fresh this dessert truly is. It's made with real sugar (not high fructose corn syrup) and the milk comes from dairy farmers who have pledged not to use artificial growth hormones. Just when I thought I couldn't love this cup of joy anymore!
3
Wendy's Frosty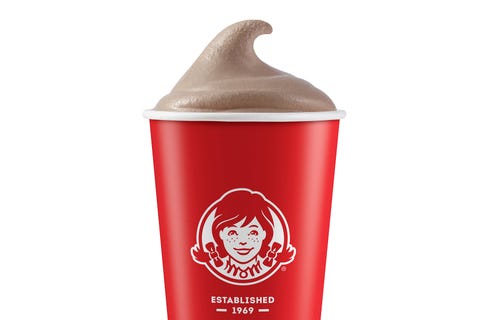 Wendy's
The most recognizable item on Wendy's menu is the Frosty. Like, do you actually eat Wendy's if you don't dip your French fries into a chocolate Frosty? For a casual dining restaurant, the quality here reigns supreme. I appreciate that the restaurant doesn't try to overextend themselves and offer too many variations—they keep it classic to vanilla and chocolate. Although they say you can drink it with a straw, I highly advise you make sure you have that spoon in the bag.
4
Chick-Fil-A Frosted Lemonade
Chick-Fil-A
Chick-Fil-A really knows how to make summer that much more enjoyable with their Frosted Lemonade. An upgrade from an original lemonade, it's a hand-spun masterpiece of their lemonade (even available in diet) and their original Icedream dessert. See what they did there—their ice cream is Icedream(y)! While you can't go wrong with their shakes either, this lemonade delight pairs so well with any of their chicken sandwiches.
5
McDonald's Baked Apple Pie
McDonald's
Who knew that McDonald's would become known for those small but delectable Baked Apple Pies? It was a stroke of genius to create a dessert that has such a strong sense of home. The serving is just enough and it's filled with 100 percent American-grown apples. Plus, it is always topped with a sprinkling of sugar. Make sure it's warm when you get it—just like how grandma used to serve it!
6
Taco Bell Cinnamon Twists
Taco Bell
Taco Bell put their own twist (literally) on a traditional dessert with their Cinnamon Twist. This cinnamon sugar snack is the cherry on top of any meal you order at Taco Bell. Is it Earth-shattering? No, but some desserts are meant to be simple and just balance out the entire meal. I'm still waiting for the restaurant chain to roll out fried ice cream, but I won't be holding my breath.
7
McDonald's Hot Fudge Sundae
McDonald's
A McDonald's Hot Fudge Sundae just screams nostalgia, which definitely adds to the taste. McDonald's definitely has the widest array of desserts among fast food chains, like this soft serve dripped with hot fudge. Hot and cold has always been a combination to be savored.
8
Sonic Blasts
Sonic
Sure, Sonic Blasts are good. I give them credit for developing different options around candy we know and love such as Reese's, Snickers, and Butterfingers. My issue with the Sonic Blasts is that it leaves no room for the actual meal. The Chocolate Chip Cookie Dough Blast stands at a casual 1,000 calories. If you're going to try one, maybe split it with a friend!
9
Arby's Cherry Turnover
Arby's
When I'm thinking Arby's, I don't think of a Cherry Turnover, if I'm being honest. It's hard to get a turnover right while trying to find the perfect balance between the flaky exterior and the fruity interior.
10
White Castle Cheesecake On-A-Stick
White Castle
I was today-years-old when I learned White Castle serves a piece of cheesecake dipped in fudge on-a-stick. Seems like an idea that someone comes up with while intoxicated, but look, it is creative. Cheesecake also seems like a dessert that doesn't pair well with the sliders on White Castle's menu, but I'll leave that up to you to decide.