Bet you can't guess who made the world's longest curly fry.

Getty Images
Whenever we step into the food court at our favorite mall, nostalgia comes rushing in. No matter where you live, some chains (looking at you, Auntie Anne's) have a presence in malls all over the country and keep the mall smelling great. As big as some of these restaurants have become, many come from humble beginnings. Did you know Panda Express was started by college sweethearts (who actually still run it today!)? Or that Arby's holds the world record for longest curly fry? Here are little-known facts about some of the best food court restaurants.
View Gallery
10 Photos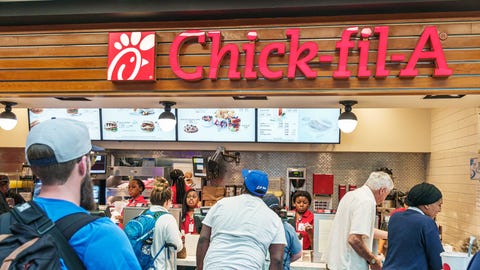 Getty Images
1 of 10
Chick-fil-A started solely in shopping malls.
Before the drive-thru existed at your favorite Chick-Fil-A establishment, the only way you could get your hands on this famous chicken was by going to the mall. The original Chick-fil-A opened outside of Atlanta in 1967. As demand grew, standalone restaurants started in 1994.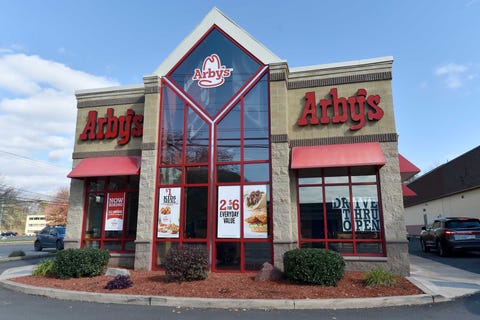 Getty Images
2 of 10
Arby's has the world record for the longest curly fry.
True story: A customer at a North Carolina Arby's not only once found an extra-long fry on her tray, but also one that was, in fact, 38 inches long—making it the longest curly fry in the world!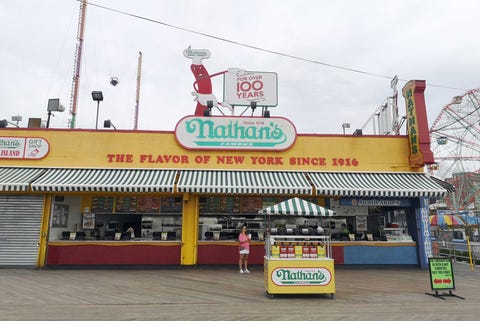 Getty Images
3 of 10
Nathan's started by selling five-cent hot dogs.
Nathan's was started by Nathan Handwerker, a Polish immigrant. Following his true American dream, he originally started working for hot dog competitor Feltman's Restaurant on Coney Island in 1912. With a desire to make hot dogs of his own, he took a loan and began selling five-cent hot dogs…which was half the price of his competition's. The rest is history.
Getty Images
4 of 10
Panda Express is owned by college sweethearts.
Husband and wife duo Andrew and Peggy Cherng continue to be the operating owners of one of the largest family-owned businesses in the country (…Panda Express!). These college sweethearts met at Baker University, married in 1975, and are still happily ever after.
Getty Images
5 of 10
Anne from Auntie Anne's is a real person.
No, Anne is not a fictional character—the iconic brand is named after Anne Beiler. Before becoming a staple at every mall, Auntie Anne's came from humble beginnings. Anne and her husband had a stand at a farmer's market in 1988.
Getty Images
6 of 10
The original Baskin Robbins colors were brown and pink.
Before Baskin Robbins' colors were pink and blue, the original colors were actually brown and pink. Why? The brown was symbolic of chocolate.
Getty Images
7 of 10
The first Sbarro did not have pizza on the menu.
In 1956 in Brooklyn, Mama Sbarro opened her shop…but it did not sell pizza. The grocery store offered fresh Italian delights of meats and too many cheeses to count. Once pizza-by-the-slice was eventually added to their roster, it became the star of the show.
Getty Images
8 of 10
A Former Blockbuster CEO purchased Jamba Juice.
A smoothie is a staple ahead of a long shopping day. This mall-favorite was purchased by Steven Berrard in 2006, who is the former CEO of Blockbuster. While the recipes we love didn't change, the company name became Jamba Inc. upon his arrival.
Getty Images
9 of 10
There are almost 900 calories in the original Cinnabon.
There's nothing like walking through the food court with the sweet, delicious aroma of Cinnabon floating about. With their classic bun at almost 900 calories, there's no doubt it's the greatest mall treat of all time.
Getty Images
10 of 10
Mrs. Fields uses 17 tons of frosting a year.
Debbi Fields and her husband began opening shops for their homemade cookies in the late 1970s. Today, it's hard to walk through the mall or airport without spotting one. The company knows how to keep up with demand, recording that each year, they use more than 17 tons of frosting!
Next
20 Starbucks Items Nutritionists Love
Advertisement – Continue Reading Below
Source